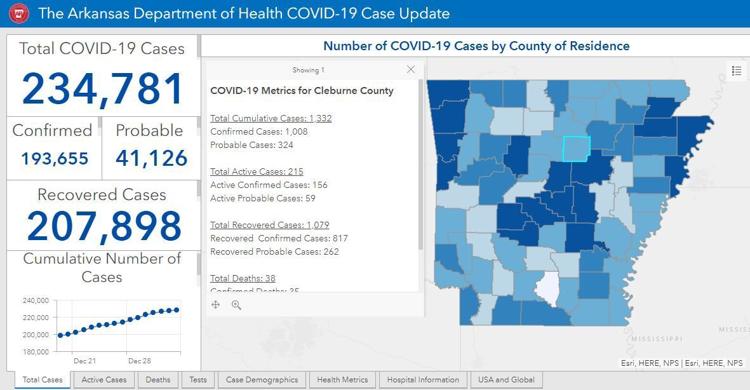 The Arkansas Department of Health reports 31 active cases of COVID-19 among residents at Somerset Senior Living at Seven Springs. Since testing was conducted in the facility on Tuesday, Dec. 15, 22 residents tested positive and 20 staff tested positive, for a total of 24 active cases among staff. The report lists facilities that have had a new or additional positive case in the past 14 days.
During a briefing last week, Gov. Asa Hutchinson said of the 31,700 Moderna dosages initially allocated for long-term care facilities in Arkansas, only 1,680 doses had been distributed. Pharmacies are coordinating distributing the vaccines to long-term care facilities. Federal partners such as CVS and Walgreens commercial pharmacies are getting the vaccine out to some of the long-term care facilities, however many locally-owned pharmacies closed for one to four days to observe the Christmas holidays.
Additionally, there is a lengthy guardian consent-process the 300 long-term care facilities in the state have to go through to vaccinate residents, explained Rachael Bunch with the Arkansas Health Care Association. She estimated Jan. 16 as the date when all the long-term care facilities in the state will have been offered a vaccination clinic from a pharmacy.
Statewide, 1,501 long-term care residents and 11 long term care facility employees have died since the pandemic began.
The ADH reported Monday there were 156 confirmed cases of COVID-19 in Cleburne County and 59 probable cases. There have been a total of 1,008 cases in the county with 324 probable cases, and 1,079 recoveries. There have been 35 deaths linked to the virus and three probable.
In a report dated Dec. 31, the ADH listed 10 active cases in the Heber Springs School District, comparatively low compared to other schools in the area. The report listed 29 cases at Greenbrier, 16 at Pangburn, and seven at Quitman
Updates may be found at healthy.arkansas.gov, ACHI.net/covid19 and the independent arkansas covid.com web sites.