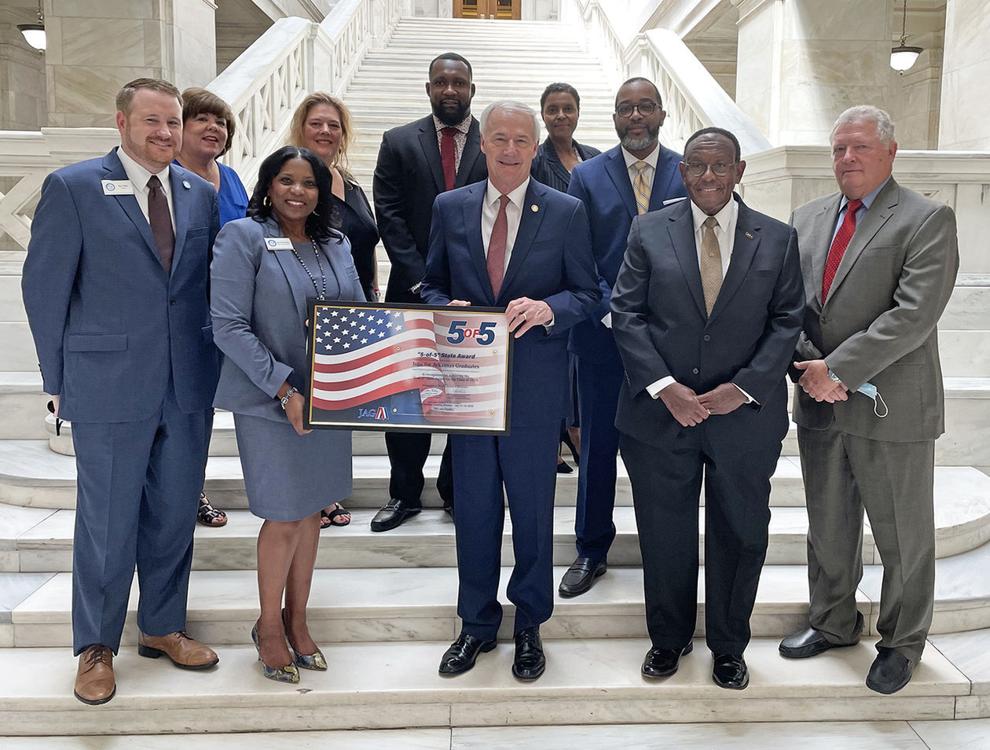 The Arkansas Department of Education is pleased to announce that the Jobs for Arkansas Graduates program received the national 5-of-5 Award for 2020, marking 15 consecutive years the program has received the honor. Twenty-five JAG programs at schools around the state also received 5-of-5 recognition for 2020.
The Arkansas program is an affiliate of the Jobs for America's Graduates program and is designed to assist students who are at risk of dropping out of high school. Students enrolled in the program receive supports and services to help them not only graduate high school but also become successful whether pursuing post-secondary education, employment, or military service.
"I am extremely proud of the Division of Career and Technical Education for leading and supporting this outstanding program, as well as the 25 programs that also received national recognition," ADE Secretary Johnny Key said. "Because of the division's efforts and the dedication from educators around the state, Arkansas has one of the most exemplary JAG programs in the country, as evidenced by this award over the last 15 years. Thank you to everyone who contributes to this programs' success and provides critical supports to help students achieve success in life."
During the 2020-2021 school year, 116 JAG programs in 81 Arkansas school districts assisted more than 3,600 students. In addition to receiving academic support, students in the program participate in project-based and work-based learning projects, which lead to post-secondary education and workforce opportunities.
The 25 programs that received 5-of-5 recognition are listed below.
Arch Ford HUB / Dover High School /Hector High School
Arch Ford HUB / Jessieville ALE
Arch Ford HUB / Shirley High School
Arch Ford HUB / Vilonia High School
Bald Knob High School
Cedar Ridge High School
Crossett High School
DeWitt High School
Fayetteville High School
Genoa Central High School
Har-Ber High School
Harmony Grove High School
Heber Springs High School
Jacksonville High School
Malvern High School
Marshall High School
Mena High School
Midland High School ALE
Mount Ida High School
Paragould High School
Paris High School
Parkview High School
Springdale High School
Star City High School
Sylvan Hills High School
Arkansas' program receives Temporary Assistance for Needy Families funding from the Division of Workforce Services, as well as funding from Entergy Arkansas, AT&T, and the Walton Family Foundation.