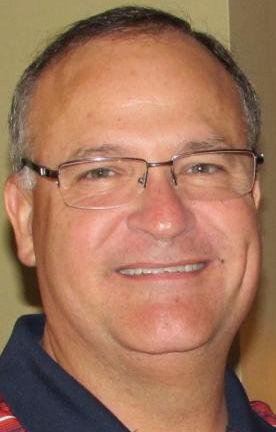 A threat made to the Rose Bud School District through Facebook Messenger led to the school closing Monday. Students were to return to classes Tuesday, but something changed, and district leaders chose a virtual day.
The threat to the high school and elementary school from a Facebook account that Arkansas State Police said is fake was received by Rose Bud High School Principal David Dodge at 2:30 a.m. Monday, according to Superintendent Allen Blackwell. It said "basically that if we wanted to keep our kids safe, we needed to cancel school," Blackwell said.
He said Monday afternoon that Rose Bud police, the White County Sheriff's Office and the state police did a sweep of all the buildings Monday morning and "didn't find anything. The state police cyber division is working, trying to backtrack through Facebook on locating who might have made the threat, but at this point they haven't gotten anywhere."
"I guess they have contacted Facebook through whatever channels that they normally do and they have not received any information back," he said.
Blackwell said the sweep of the buildings lasted from "somewhere around 7:30 a.m. through 9:30 or 10 a.m. so they did a good in-depth search of all the rooms and everything."
Bomb-detection dogs were brought in in the afternoon for a second sweep "to basically make sure there is nothing," he said.
Rose Bud Police Chief Stephen Schaumleffel said the North Little Rock police provided two of their bomb-sniffing dogs to go in and do a sweep of the buildings but they didn't not find anything.
Blackwell said in his history of being a superintendent, which includes 11 years in Gurdon, this is the first time he has dealt with anything like this.
"At this point, we have taken all the precautions that we can," he said. "Moving forward, we are going to have the White County Sheriff's Office and extra troopers and things in place tomorrow [Tuesday] as we try to come back to school.
"We made sure all of our alarm systems are up and running in the way they should be. We feel very assured by the state police and county that our buildings are clear. Everybody is going to have to pay close attention over the next several days to make sure we stay safe."
Schaumleffel said he was called about the threat around 5:30 or 6 a.m.
"I got over here and got my officers and we met with the superintendent and principal and I got ahold of White County and the state police and myself and administration made the decision to close school today," he said Monday afternoon.
He said during the sweep, "we did the outside perimeter first. We went and walked through the buildings because I wasn't for sure if I was going to be able to get some dogs up here, and then later on in the day I got word that North Little Rock brought their dogs up here and brought the dogs through. We still haven't found anything.
"We are still in the process of working the identity of the one who sent the message. I got my suspicions, but right now I couldn't tell you if it was one of our kids or somebody else."
As far as dealing with threats to schools, Schaumleffel said there has been a couple of threats in Rose Bud but none of those were as specific as the threat that was received Monday.
"We had one a couple of years ago where a person from out of state" said something would happen at a White County school, he said. "I think this one was probably the most specific threat that I have had."
Rose Bud Mayor Shawn Gorham, who is also the president of the Rose Bud School Board and has two sons who are seniors at Rose Bud High School, said "the first thought that goes through your head when you hear something like that [the threat], I guess it would be images more than threats. You know, seeing visual of what you see on the news in other towns and places; you think, 'Lord, that will never happen in a town like ours,' but so did those towns before it happened in theirs. That is the first thing that goes through your thoughts.
"And then the second thought that goes through your head is to get with your chief of police, and, of course, mine was already on the scene," Gorham said. "His officers do an extremely good job for our town and our school district and, of course, he was already there in the middle of it getting with county and state [police], and they just did a tremendous job sweeping the premises and doing a thorough inspection.
"He [Schaumleffel] was adamant about closing school until we knew for sure our campuses were safe and we can get kids back here and our employees back safely and all the neighbors are safe. He called me to let me know all was clear."
Gorham also said the administration also did a great job Monday. He thanked Blackwell and the Rose Bud principals for acting quick and getting with the police.
"We take this very serious when something like that is brought before us," he said. "It is safe to come back on campus starting Tuesday. We will have city league ballgames now that we have been cleared. We want our people to know when we get stuff like this, we take it seriously. We got the right people in place to make sure we are safe, and that's what they have done. Thankfully, it was just a prank and we are cleared to go back Tuesday.
"We also want to send a message out there that when and if these people are caught who make these pranks that we will prosecute them to the fullest extent of the law, and we are diligently working with state police to find out who did it so I want to send a message to them that 'you will get caught and you will get prosecuted to the furthest extent of the law; whether you did it or it was a prank, we are going to treat it as if it was the same thing.' ... It seems like we get one of these a year and eventually we are going to catch who did it and we are going to make an example out of them."
White County Sheriff Phillip Miller said Monday "the safety of our schoolchildren and schools is of the highest priority."
"As soon as I was made aware of the situation today, I immediately directed members of our patrol division and criminal investigation division to assist in any manner that was needed," Miller said. "We continue to assist in the investigation that is being led by the Arkansas State Police.
"As always, anyone that may have any information related to this investigation is asked to call and report that information so that it can be immediately checked into."