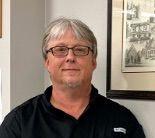 Martin Couch has joined The Batesville Guard and The Heber Springs Sun Times team this week as Sports Editor.
"It has been a long time, but I couldn't have picked a better place for sports of all kinds. Covering local high school athletes giving the ultimate effort in competition for their city, community and school is encouraging and positive. My plans are to give equal coverage to all the high schools in the area and introduce the community to the athletes through profiles or feature stories," Couch said.
Couch, 56, has print, broadcast, and digital sports and news-gathering experience, and a profound understanding of the importance of motorsports in the region.
"I love to write stories about the drivers: Their struggles and successes are amazing. So look for me at the track. I will be cruising around the infield," Couch said.
Couch has been a sports editor for newspapers in Benton, Stuttgart, North Little Rock, Arkadelphia, and Franklin, Tenn., through the years. It was Tennessee where Couch developed his passion for motorsports, working at the Nashville Speedway USA while working at a newspaper in Franklin.
"With promoter Bob Harmon leading the way, we put on Craftsman Truck and Busch series events as well as weekly racing. I got to know Sterling Marlins' family well during those days. All of his cousins raced either at the speedway or other places like Duck River's dirt track. I got on with Late Model Digest out of Murphy, N.C., and covered asphalt, late-model stock racing all over the southeast. I covered the Snowball Derby, the Southern All-Star series and other regular Saturday night features," Couch recalls.
During 2000 and 2001, he was at Speedweek in Florida covering races in Lakeland where a young "Watermelon Man" was getting his start. He covered nightly races at New Smyrna Speedway and saw Mark Martin at a dedication ceremony.
"Late model stock cars were crashing and racing hard for wins and the prize money. In fact, I remember a pile of torn up racing car parts in a pile outside the Speedway in New Smyrna. One of my favorite stories was interviewing Bobby Allison and his family about the Allison Legacy Series. He told me all about the old Alabama Gang. What a treat that was," Couch said.
Couch remembers covering a race in Mobile, Alabama, which was basically a pit like Bristol. Cars would spin off the top of the track and slide down an embankment. A guy who had never won before, David Hole, held his car on the track for his first win.
"I was at a dirt track in Clarksville, Tenn., once covering a race. I had a good stand on a concrete barrier between the infield and track. I was standing on top of it when six dirt late models coming down the backstretch wrecked at my feet. Scott Bloomquist was one of them. And I got to meet Wendell Wallace once. He probably doesn't remember, it was 20 years ago or more," Couch said.
Most recently, he's been producer for all of the Arkansas Travelers baseball games broadcast on KARN out of Little Rock, as well as a producer for some of the shows at 103.7 The Buzz.
Couch has also written for Bassmasters.com
"I have been a sports writer for the Arkansas Democrat-Gazette for several years as a freelancer. I wrote for Bassmasters.com, ESPN3.com, NASCAR, Late Model Digest, Middle Tennessee Racing News back near the turn of the century," Couch said, with a laugh.
Couch received a Society of Professional Journalist award for his coverage of the Arkansas Travelers baseball team moving from Ray Winder Field in midtown Little Rock to Dickey Stephens Park in North Little Rock.
He can be reached by email at mcouch@guard online.com.